1. 12. 2006 | Rubriky: Články,Interviews, reviews,Multilingual
Rachid Taha, Diwan 2 (La Voix des Lilas; Barclay/Universal, 2006)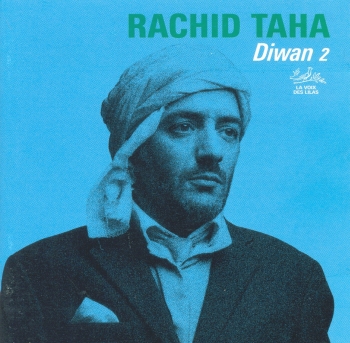 Last time, with album Tekitoi two years ago, Rachid Taha was Alter, this time, with second Diwan, he is foremost Different, thus basically not Indifferent, conditionally more rootsy, rough, acoustic, with less electricity and electronicity, not only in comparison with regular author albums, but also with first Diwan (1998), which has in common with Rachid's nondivanic opus at least sound, which pretty radically changed with Tekitoi (not necessarily for worse, not necessarily for better, only elsewhere), all the while producer remains the very same Steve Hillage (yet the sound engineer did change). According to Rachid in concept of Diwans he -as restorer of old paintings- restores old songs, giving them new lustre and sparkle. Yet this time lustre is smothered and less sparkling, as perhaps revealed already by the comparison of covers: on numberless one all is in joyous motion (Rachid with flying hair, camel, biker), on numbered two all is in motionless melancholy (Rachid with covered head, palm trees, horizon), sealed with bird La Voix des Lilas ((arche)typical label sign of ancient singles, albums, cassettes too). In sum, this time Rachid Taha, browsing among dusty collections on shelves, attics and in memories in fight against oblivion, looked also at covers and remade them, even if my modest knowledge of this imagery reminds me more of 20's and 30's, less of 60's and partially 70's (80's) from which he tapped this time for his poetry collection.
Mainly Rachid remains truly faithful to originals and original sonority, nevertheless he does add few of own features. If not other the very powerful and unmistakably author trait on the refreshed sound canvas is Rachid's unique voice that some love in all its potential asperity and bluntness and some hate despite all its inherent possibility of ardent warmth, velvety crackling, smiling, baiting sardonicism. Although Taha does take effort on Diwans to imitate the singing style of originals and also essentially succeeds, this time even better than I thought possible, he remains in this segment inevitably personal, in sum the author signature of Rachid's own voice can't be missed. Rachid Taha – as the wind, the bird, the doorstep and the dim chill of the eve know already – is foremost an expressive rock singer with poetic in his voice and not a technician of demanding Arabic vocalisations, yet for his Diwan covers he must become also a technician of a variety of genres he tackles – and some are severely demanding. This time too Rachid reaches for approximately similar repertory as when he covered Farid el Atrache's Habina, in sum vocally demanding repertory, requesting classically formed singer with classically formed voice and capacity. Well, the hard rock of Egyptian 20th century classical music is this time at least once (Gana el Hawa), conditionally twice (Mataouel dellil) if not the third time (Ghanni li shwaya) successfully and convincingly cracked.
That Rachid is vocally quite capable of singing techniques of algerian chaabi (at least Amrani's) and traditional rai of the ancients, also called gasba & guellal (drum'n'flute), we knew already after previous Diwan and some author tributes to cheikhates and cheikhs. In truth this time Rachid Taha didn't cover any of the cheikhs of "old rai", both songs of this genre are his own author compositions among the wreath of covers, winding the songs Écoute moi camarade (Listen To Me Pal) of Algerian ye-ye musician and rebel Mohamed Mazouni, in which the cruel mistress is parable of France, Rani (I'm So Tormented) of Oran popularmusical elders Missoum Abdillah and Blaoui Houari, afrophonique song about love and tolerance Agatha of Camerounian all-rounded author Francis Bebey, lament Kifache rah (How Did It Pass By) of chaabi author Dahman el Harrachi and Souliman Ahmed, Josephine of Cheikh Taha, majestic Gana el hawa (The Love Met Us) written by Mohamed Hamza and Baligh Hamdi for Egyptian classic Abdelhalim Hafez, Ah mon amour of Cheikh Rachid, Mataouel delil (The Night Is Getting Long) of Oran master of orientals and oranie Ahmed Wahby, Maydoum of Dahman el Harrachi alias Amrani again and Ghanni li shwaya (Play A Little Song For Me) written by Bayram el Tunsi and Ahmed Zakaria for the great Umm Kalthum.
It should be told that all songs are accompanied by motley and quality crew of musicians and that in each and any song there plays also the master of oriental percussion Hossam Ramzy who also directed The Cairo String Ensemble, participating in all songs but three, besides we often hear also oud, qanun, nay, mandoluth and choruses and when necessary kora and gasba, while the electrical instrumentation is at minimum, with rare el. bass, standard drum set only in Ecoute moi Camarade and only three songs with elelctric guitar. After this year's sequel to Diwan from 1998, promised a long ago, now Rachid promises also Diwans No 3, 4, 5 etc., thus we'll still discover with him the treasures of Algerian, Arabic, African and who-knows-what-all music, yet he is also claiming, that there will be each time an author album at least between Diwans. Up to now in 16 years of solo career there were 5 of those and 2 lives, with only 2 Diwans – does it mean that we'll have the chance to hear the five in year 2030, when Cheikh Taha will be counting over 70 springs, perhaps legitimately remaking himself?
– TC Lejla Bin Nur
Lejla lives in Ljubljana, Slovenia, where she is a respected specialist on Maghrebi music. Check her programmes on Radio Student:

http://www.radiostudent.si/article.php?sid=10411
http://www.radiostudent.si/user.php?op=userinfo&bypass=1&uname=TCLejla