12. 8. 2007 | Rubriky: Články,Interviews, reviews,Multilingual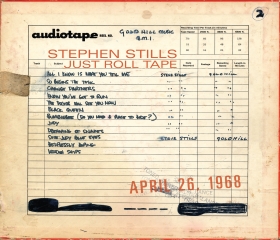 [by Ken Hunt, London] The Stephen Stills who put down this session on 26 April 1968 was hardly between jobs – even if he was between Buffalo Springfield and Crosby, Stills & Nash. On the album's skimpy notes, Stills writes, "I was at a Judy Collins session in New York in 1968, and when she was finished, I peeled off a few hundreds for the engineer so I could make a tape of my new songs." Which Judy Collins session? Not the Who Knows Where The Time Goes surely, because it would be churlish beyond belief not to be explicit about that.
1968 was the year that Judy Collins put out Who Knows Where The Time Goes, one of the finest albums she ever made. Stills contributed acoustic and electric guitar or electric bass to all but one of its nine tracks. He was in the company of a handpicked assembly of some of the West Coast's finest session musicians. It additionally comprised James Burton on electric guitar, Buddy Emmons on pedal steel, Michael Sahl and Van Dyke Parks on keyboards with a rhythm section of Chris Etheridge on electric bass, and James Gordon on drums. Collins and Stills were tangled up in romance, a relationship that ultimately fed their creative energies more than anything else. Two of the new songs Stills put down pointed unequivocally to the passion she had aroused in him – Judy and Suite: Judy Blue Eyes. (And, yes, she had blue eyes.)
Here Stills is alone with his acoustic guitar, apart from the final track, running through reference versions of songs. Along the way the tape was misplaced and thought lost forever. Hindsight tells which Just Roll Tape demos made it through or how they grew. Some of the dozen songs in the session became core items in the repertoires of Crosby, Stills & Nash and his parallel solo career. The thirteenth track, the undated (presuming the notes dissemble) Treetop Flyer, on which Stills double-tracks guitar and dobro doesn't really fit, but it is by far the strongest performance vocally.
It is hard to be absolute about Just Roll Tape but to these ears the essential vibe of the main twelve recordings communicates something unusual. For a start, the tracks aren't concert artefacts or after-hours song sessions. Next, they aren't song-publishing demos, like, say, Dylan's Witmark recordings in pursuit of covers, or an individual bringing new material to a band with, say, spoken interjections highlighting chord changes. Just Roll Tape is a different species of try-out. This is Stills putting down reference versions of himself for himself. We are eavesdropping on something very private. And, that, assuming the premise to be correct, is intriguing in itself. (What passes as contextual information in the packaging regrettably adds not a jot, if you like, to the 'debate'.)
Anyway, surely the major joy to be had from any archival release of this nature is what light it sheds on the act's creative development. Under the spotlight, it has to said most of Stills' performances wilt beside the familiar versions and star-backed interpretations. But that's applying the wrong sort of criteria to Just Roll Tape.
Some of these songs deservedly shrivelled and died. Not even a die-hard herpetologist would applaud Dreaming Of Snakes – though dream analysts might have a warm, damp moment. On the other hand, Judy is just wet. But So Begins The Task shines and reveals itself as one of his songs most open to interpretation and one of the least appreciated. On his first solo album Stephen Stills (1970), Black Queen was a solo vessel with a nicely lubricated captain. Here it follows a very similar bluesy musical arrangement, thankfully without Jose Cuervo's input. Compare sobriety and intoxication and the tequila'd Stephen Stills version wins out, however.
Of all the songs, five stand out for pointing to what happened later. Change Partners – to emerge on Stills' second solo album – points to all sorts of all sorts. Suite: Judy Blue Eyes, Helplessly Hoping and Wooden Ships – co-written with David Crosby and Jefferson Airplane's Paul Kantner – are all well advanced, just waiting to have David Crosby and Graham Nash drop in their vocal parts. Unlike Know You've Got To Run which is a creative cul-de-sac. And all the better for that. Because that is what the creative process is also about: the winnowings.
Just Roll Tape is like going potholing, entering an unknown cavern and finding a wall of cave paintings. Nobody is going to say that that bison, elk or tree frog depiction is going to win the Royal Academy award but we're going to keep talking about them, long after the latest greatest thing has faded and died. Historically speaking, Just Roll Tape is of great interest. Musically speaking, he was doing better accompanying Judy Collins, however.
Just Roll Tape Eyewall/Rhino 8122-79979-1 (2007)