14. 9. 2007 | Rubriky: Články,Interviews, reviews,Multilingual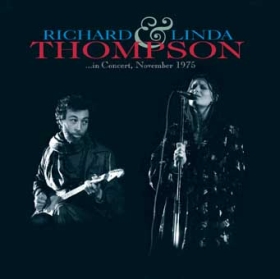 [by Ken Hunt, London] Their marital relationship hitting the buffers by the beginning of the next decade was years away when Richard and Linda Thompson made these live recordings. Hindsight of that nature adds nothing to the frissons that In Concert 1975 delivers. After all, living a year of your life in no way compares to the way a year or three gets 'telescoped' for the purposes of biography. And in any case between 1974 and 1982 the couple released a sequence of jointly credited duo albums that count amongst the finest to come out of Britain during the period in terms of songcraft and performance. This is them at their peak, though they were soon to duck out of this life to pursue other, non-musical paths in a Sufi community.
When John Wood recorded this material for Island at concerts in Oxford, Swindon and Norwich in November 1975, Richard and Linda Thompson were promoting their third album Pour Down Like Silver – the second of two albums released in 1975. They were on a roll and were an act that had my highest respect, if not always my hard-won shekels. Back then, I had to choose continually between the live experience and the artefact. It was one or the other, in other words. 'Keep music live' might have been the Musicians' Union car sticker in my father's car but what it meant for me was fiddling the tube fare in order to get to the club or venue and also walking a few miles before and after the gig. Every gig attended meant the week's penury. England swang like pendulums do. Or whatever that American fellow said.
The band on In Concert 1975, in addition to the Thompsons – Linda on vocals, Richard on guitar and vocals -, consists of John Kirkpatrick on Anglo-concertina, accordion and vocals, Dave Mattacks on drums and Dave Pegg on bass guitar. I have no clear memory of seeing this line-up at this point, though, as their I Want To See The Bright Lights Tonight (1974), Hokey Pokey (1975) and Pour Down Like Silver (1975) were part of the period's sound palette, I presume I did. Those three albums provide In Concert 1975's core repertoire with such material as Hard Luck Stories, Jet Plane In A Rocking Chair, Hokey Pokey (The Ice Cream Song), Streets of Paradise and For Shame Of Doing Wrong. Adding the Morris Medley comes across as a bit token, but given the personnel at their disposal it is no surprise that the instrumentalists revisit something from the 1972 Morris On project. Far better is the Fairport flashback with Thompson and Dave Swarbrick's Now Be Thankful.
These fifteen tracks date from a period when musical frissons abounded – as opposed to personal frictions during contract fulfilment appearances when the couple's unhappiness was manifest on stage. In Concert 1975 is a new artefact, nothing revamped, not one of those bonus track-enhanced affairs that come with this year's copyright year on them, yet never quite date by year what came before. Having said that, two cuts on In Concert 1975 – Calvary Cross and It'll Be Me – are identified as having previously appeared on Richard Thompson's 1967-1976 anthology (guitar, vocal) and as "alternative mixes". They are specifically identified as performances from the Oxford Polytechnic gig from 27 November 1975; nothing else here gets that precision. The album sticker calls this release, "Their complete 1975 live show with encores" – though it is in fact a composite concert, so to speak, and when it came to encores the Thompsons' gigs drew on a big pool of covers., one of their great attractions because you never knew what they were going to let rip with at the end of the evening.
Vocally, Richard Thompson's singing voice has a way to go. It lacks the muscularity of his later solo work, though Streets of Paradise has pre-echoes of how his voice would develop. Still, he did have Linda Thompson singing her heart out on stuff like A Heart Needs A Home or For Shame Of Doing Wrong. But even in its comparative frailty, for example, when supporting Linda's lead vocal on For Shame Of Doing Wrong, Richard's shadowing vocal is opening doors by the song's mid-point. And then his string bending gets under way.
Night Comes In, at nearly eleven minutes, is still, for my money, Richard Thompson's finest, clearest-eyed, Sufi-inflected song. Its clarity, at the risk of sounding a paradox, is its opaqueness. Where other of their so-called Sufi-period songs used Rumi-inspired imagery – such as the reed – Night Comes In uses images of the Beloved, wine and dance, permitting multi-levelled interpretation. Thompson's guitar revels in its frrreedom to expand, like a child allowed out on the swings and roundabouts, playing truant from parental supervision. Philosophically speaking, its Judeo-Christian counterpart is Calvary Cross, the longest performance. It hits the 14-minute mark here, with Kirkpatrick's squeezebox doing folk things that had never been heard in a rock context before. Mattacks' drumming is clear metrically yet the beat is never the big deal. He underscores Thompson's lead melody line. Together, Mattacks and Pegg complement Thompson wordless vocal lines, accenting syllables, adding accents, building tensions. The parts are so entwined, intertwined and intuitively of one that Calvary Cross repays repeated listenings, just to tease out what individuals are playing and doing.
This, though, is an album of vocal and instrumental togetherness. Amongst the finest song performances are Hank Williams' Why Don't You Love Me (Like You Used To Do). Ostensibly it's a vehicle for Linda Thompson's vocals. Yet it parallels when David Lindley accompanies Jackson Browne instrumentally. Voice and guitar combine to tell a story. The couple's concerts had made a trademark of going into covers territory when encore time came around. Like here with Buck Owens' Together Again or the choicest example here, Glen D. Hardin's song Things You Gave Me. But I could be wrong about it being the choicest example. I've been wrong before. And I'll be wrong again.