12. 8. 2007 | Rubriky: Články,Interviews, reviews,Multilingual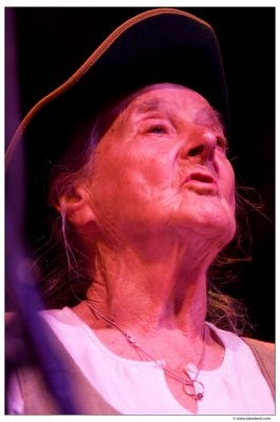 15-29 July 2007, Krems, Austria
Krems is a beautiful and peaceful town on the river Danube in Austria, known for its Riesling wines and – in past years – also for the Glatt und Verkehrt festival. The name literally means a knitting style that changes between two types of stitches, the "smooth" and "inverted". This is actually a good definition of the programming, which includes some well known local traditions in an unusual setting, like the Indian guitarist extraordinaire Amit Chatterjee performing with the Austrian yodelers Broadlahn, an idea which dates back to times when Amit was a regular member of Joe Zawinul's syndicate.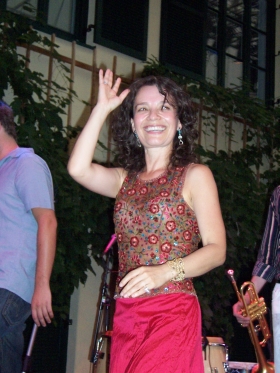 Or imagine a "voices triangle" from three very different corners of world. The Norwegian yoiker Inga Juuso stands on the left, an Alpine trio with Gretl Steiner, looking like a good-hearted Granny who just escaped from a fairytale, in the center. The right side of the stage is occupied by Ayarkhan, consisting of three astonishing ladies in Yakutian fur costumes with shining metal bonnets, doing their Horse Spirit songs and a striking voice-through-jew's-harps performance. While staging a mega jam session would the obvious idea, the programme director Jo Aichinger took a more sensitive approach, and for most of the set focused on the visual and sonic contrast of separate performances.
But also you can create a momentum by mixing contrasting ingredients of the same culture. The Antchis Chati Choir from Georgia revived the "krimanchuli" polyphonic style, more rhythmical and raw than the polished recordings of better known choirs like Rustavi. After their drinking songs of innocence followed the turbo-performance of The Shin, "pan-Georgian" ensemble which includes duduk, bagpipe, dancer, and almost flamenco-sounding guitar.
On the other hand, the performance of the Kurdish singer Aynur stood like a monolith on its own, not related to any other pieces of the programme. I was stunned by the power of Aynur's voice and percussive intensity (most of her band members switch between percussion and melodic instruments) on her breathtaking showcase at Womex in 2006, so this was time to explore the subtle details, like the classical Ottoman style of the violin lady Neriman Günes Akalin, who is also a long time member of the Turkish multicultural band Kardeş Türküler.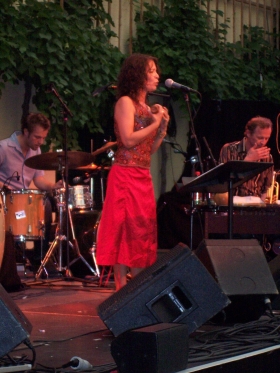 For many, the programme climax came with a project labeled Colombian-Austrian Encounter, led by Lucía Pulido, who is not exactly a household name, but thanks to her sensitivity, taste and vocal capacities, has developed almost a cult position in the New York Latino scene, adding a spiritual level to Colombian rural songs. Since this spring, as an artist-in-residence she rehearsed with the principal Austrian electronic wizard Patrick Pulsinger, trumpet player Franz Hautzinger and others. Despite the result seemed to be more like a work in progress than a finished opus (the musicians plan to meet again in Colombia), following it was highly rewarding and enjoyable, like climbing a risky road that leads to a panoramic summit. If you plan to go to Mercat de Música Viva de Vic in Spain this September, be sure not to miss Lucía Pulido with another mixed project, Benjamim Taubkin's América Contemporânea.