25. 6. 2007 | Rubriky: Články,Interviews, reviews,Multilingual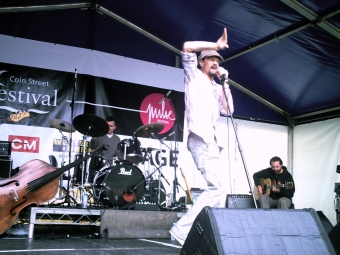 Pulse Festival of Central and Eastern European Music/Coin Street Festival
South Bank, London 16 June 2007
[by Ken Hunt, London] Now in its third year, the Pulse Festival proved hitherto to be something of an expatriate affair. Its focus on acts from countries from the former Soviet bloc meant that audiences from the acts' homelands filled the venues in droves. It felt like patriotic solidarity or whatever you want to call it sucked people in. Mind you, that could equally be said of, say, Iranian, Kurdish or German expat audiences in London. Holding a day of free concerts on and near the National Theatre's riverside terrace was an inspired idea. As was combining it with the Coin Street Festival. The free concerts included the Czech-Roma hip-hop ensemble Gipsy.cz, the UK-based hip-hop artist Goldielocks, the Polish rock band Tyman Tymanski & Transistors and the Slovak folksinger and folk music collector Zuzana Homolová. The Saturday concerts pulled in any number of randoms – tourists, families out walking, people attracted to the sounds of live music.
This review though concerns one of the Czech Republic's great future exports. Namely Dan Bárta & Illustratosphere. Currently they are little known outside their homeland. However, in the Czech Republic Bárta's reputation as a major vocalist is a given. If talking to Czech friends and strangers in a biased audience counts as a straw poll, then everyone knew him. The rub was that every one of them had previously failed in their attempts to buy tickets for the band's concerts in Prague – Bárta's home and base. It meant most of the crowd braving the showers was Czech. Why the band is so successful at selling out venues like the Akropolis in Prague – where they recorded the 2005 Retropicture album – swiftly became plain. (Ironically, I had seen Bárta perform once before in Prague when he performed solo and unaccompanied making his way singing up the central isle of the Smetana Hall in that art nouveau palace called Prague's Municipal Hall.)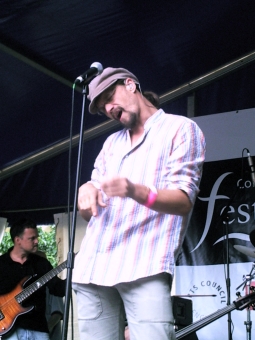 Before talking about music, let's talk about mechanics and optics – if sight lines count. Illustratosphere including Bárta is a six-piece band. Stanislav Mácha (keyboards), Robert Balzar (double-bass and electric bass), Jiří Slavíček (kit drums), Jaroslav Friedl (guitars) and Filip Jelínek (keyboards and percussion) positioned themselves in a half-ring. (Bárta told me the following day this set-up was their standard set-up.) It means each musician can see every other musician, pick up on body language, watch for physical cues and maintain eye contact throughout. Within the performance half-ring Bárta holds court, mostly with eyes closed when singing in order to hold in he words. He moves to the front to sing and connect with the audience, pulling back to the middle space in order to respond physically to what is being played instrumentally. He has a post-Jamiroquai performance style, if I have got Jason Kay's act down pat from the Vitual Insanity video. Or it may be a generational thing. Bárta and Kay were both born in 1969. Working in the Prague production of Jesus Christ Superstar from 1992 before hooking up with Illustratosphere definitely helped his stage presence, stage awareness and stagecraft.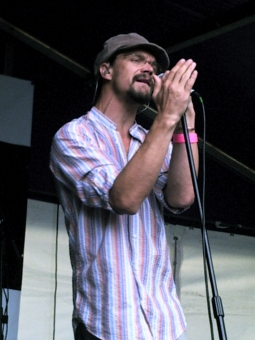 It was one of those gigs when the band has so much to prove that they pull out all the stops. The lyrical mixture was in a ratio of about 60:40 Czech- to English-language material, mostly from Retropicture like Moje Vina, Some People, their cover of the Police's Spirits In The Material World, Introduction To Happiness and Městem. It was clear that we were witnessing a consummate vocalist whose ease of voice artistry was uncanny. The extent of how tight Illustratosphere is as a band was clear as they played Introduction To Happiness and Vlčák.
Czech jazz is better known for its Jan Hammers and Miroslav Vitouses than its George Mrazes and Jiří Stivíns (or in Patti Smith rock-poetry circles, circa Horses, its Ivan Krals). If there is any justice in music, before this decade is done Dan Bárta & Illustratosphere will be holding down a proper engagement at Ronnie Scott's Jazz Club in Frith Street. They already have enough repertoire to hold down a week of improvised, one-off magic.
Pictures (c) 2007, Santosh Sidhu, Swing 51 Archives