13. 8. 2007 | Rubriky: Články,Interviews, reviews,Multilingual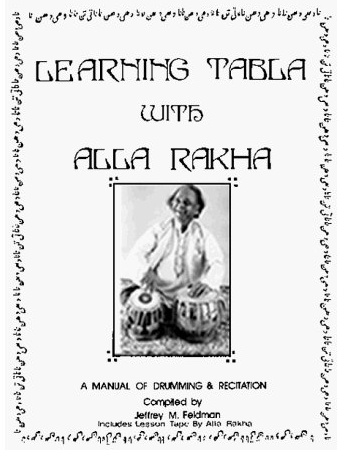 Queen Elizabeth Hall, London 22 July 2007
[by Ken Hunt, London] Transformative is probably the most appropriate word to describe the influential Northern Indian rhythmist, composer and teacher, Alla Rakha Qureshi, and how his music affected people. Ustad in the concert's title is the Muslim counterpart of Hinduism´s more familiar words pandit and guru. Certainly, Alla Rakha educated many, many people. The default-standard tale is that the West turned on to Indian music through the sitar. There is no denying the inherent truth, if hackneyed, of that proposition. But it was never the whole story, never the truth, the whole truth. For many people, the neon, flashing sign over the entrance to appreciating Hindustani music didn't come with Ravi Shankar or Ali Akbar Khan, the Beatles, the Byrds and their kind. It came, heresy of Hindustani heresies, through clicking with taal (rhythm cycle). In other words, for many people, rhythm came before raga.
The musician responsible for handing out the skeleton keys to Hindustani rhythmicality was the once A R Qureshi of the Bombay film industry reborn as the Alla Rakha of Hindustani art music. Assuming you had any musical wit, once you heard him, rhythm took on new, multiple levels of meaning. You would be changed forever after. Seeing him play was an experience you could liken to what Burns conjures in his poem Ae Fond Kiss (One Fond Kiss): for to see him was to love him. Seeing him perform live you couldn't but be seduced by the power and depth of his art and artistry. The facial grimaces and body levitations were pretty special too.
Since his death in February 2000, the Allarakha Foundation, run by his daughter Khurshid and her husband Ayub Aulia, has kept the flame burning. Over the years the tribute concerts' mood has changed, going, as is proper, from the emotional to the celebratory. In 2001 Sultan Khan singing his friend to sleep with a Rajasthani sarangi and vocal lullaby was a dam burst of emotion. It is no exaggeration to say that most of the London audience was openly tearful, unashamedly declaring in public what Alla Rakha's loss represented and meant to them. This 2007 concert hit a more celebratory note than that first death anniversary tribute but it was just as memorable. Alla Rakha's oldest son Zakir Hussain Qureshi – let's include the Qureshi for once – provided the link to family, pedigree and gharana – a school or style of performance. The illustrious Hindustani flautist Hariprasad Chaurasia headlined.
The honour of opening the concert fell to a trio, as yet without a name. They consisted of Kishon Khan on piano, the Swiss bassist Patrick Zambonin on six-string electric bass and the Cuban percussionist Oreste Noda on congas and percussion. The first piece, unnamed as they played it, named For Zakir by the intermission – thanks to the mind-focussing prospect of PRS income – opened alap-like with Khan's piano. For Zakir flitted in and out of modality. It never went where, say, Adnan Sami went with Hussain on his now barely remembered, enfant terrible-period calling card, The One And Only from 1990. (Whilst London correspondent for the El Cupertino-based Keyboard I was, having caught him on British television, the first correspondent to champion Sami as something special in the United States – years before his reinvention as a Bollywood music director or composer.) Or the historic raga-to-keyboard work of Jnan Prakash Ghosh and V. Balsara. The trio's worldview is different. The Bangladeshi-Cuban connection was best revealed on the second of their two numbers. Called Manush Guru, it was based on a piece by Lalan Shah, also known as Lalan Fakir, whose Sufi poetry suffuses the subcontinent's mystical philosophies. Lalan Shah touched on Bhakti Hinduism (Reformation devotional) and Sufism (mystic Islam). Most especially, his work was revealed in that to-be-marvelled-at, syncretic philosophy practised by the Bauls in which godhead is reduced to the Man of the Heart or that which lies within each of us, a philosophy that superannuates the sky pilots' favourite chum. After a skip-beat pause, the trio spun into Sapasa (named after its opening notes sa and pa in Indian sol-fa) with Noda's congas playing pseudo-tabla. Why devote so much space to an opening act that played two pieces? Because they were worth it.
Zakir Hussain appeared next with harmonium accompaniment from Fida Hussain and Surjeet Singh playing lehara patterns on sarangi – melody supporting rhythm in other words. Hussain announced it as a peshkar, as a homage to the ones that have gone before, and a way of announcing pedigree and guru. His spoken interjections provided context. Sometimes the context was biographical as he talked about his father or his father's Punjabi tabla style. Sometimes he told tales in rhythm, with typical Hussain verbal quirkiness ("life is good, TV's on – plasma"), as when he announced two tabla notes as characters in a story. Minimalism personified, imagine Prokofiev's Peter And The Wolf characters reduced to a note rather than an instrument. He interposed spoken insights that illuminated the Punjabi style of tabla playing and percussion composition. Like the one about an age when a percussion composition might be handed on as a dowry item. A consummate performance and display of virtuosic musicianship.
The honour of concluding the concert fell to the bansuri (bamboo flute) maestro Hariprasad Chaurasia with Sunil Avachat playing second bansuri, Hussain on tabla and the concert promoter Gilda Sebastian on tanpura, the stringed drone instrument. Chaurasia played a new composition of his own devising with a light dhun or folk air touch to it. Called Brindavni Malhar, it evoked both geography in Brindava – a place associated with the flute-playing Lord Krishna – and weather since Malhar is a rainy season raga. Passages evoked the pitter-patter of rain and, it seemed, the repetitive simplicity and carrying power of woodland birdcall. Unbeknownst to Chaurasia, Britain was suffering extensive flooding. At times Hussain played with a lightness of touch and deft understatement I can only compare in my experience to his restrained accompaniment while accompanying the bansuri virtuoso G S Sachdev at Ali Akbar Khan's eightieth birthday bash in Marin County, California in 2002. That time, he was on his mettle, a perfect accompanist and beyond exceptional in his invisibility. But his accompanying Hariprasad Chaurasia's three raga performances warranted high praise indeed. Every so often you go to a concert and it is so extraordinary you scarcely dare to believe your senses. A Tribute to Ustad Alla Rakha fell into that rare category.