Ken Hunt's biography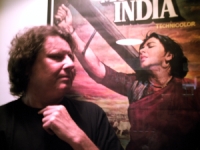 The writer, broadcaster, translator and occasional lyricist Ken Hunt was blessed with a nondescript name. Once long ago before the internet really kicked in, during correspondence about Lal Waterson and English folksong, the Japanese professor of English Literature asked if he knew of the other Ken Hunt who wrote about the Indian subcontinent's art music. One and the same was the answer. Whether it was the music of Joseph Spence or Gorō Yamaguchi, Martin Carthy or Ali Akbar Khan, the Grateful Dead or Viv Stanshall, Iva Bittová or Artie Shaw, Shirley Collins or Martin Simpson, he believed that serious-minded music of whatever persuasion was something to be treated seriously – no matter, he adds, how pontificating that may sound.
Iva Bittová paid him one of the ultimate musician compliments. She told him he didn't think like a music journalist but like a musician. India's sitar maestro Ravi Shankar called his intuitive approach to writing about the music of the Indian subcontinent "unique" in his experience. Yehudi Menuhin just told him he was "extraordinarily well-informed". Increasingly since the explosion of so-called world music in the late 1980s, on account of only having one brain, he has specialised rather than be a generalist.
Born in the Southern English county of Surrey in 1951, he grew up in a house filled with the music of Ellie Fitzgerald, Coleman Hawkins, Billie Holiday, Nellie Lutcher and Artie Shaw. Plus whatever was on the wireless. His first published writings appeared in 1967. Annoyed by the standards of music journalism, he resumed writing in 1975. In the meanwhile he had returned to England after living in Northern Germany where he worked on a host of magazine titles including Stern, Frau im Spiegel and the eventually banned twen and abandoned English for High and Low German bilingualism. Back in Britain he began writing for the second wave of alternative, post-Zigzag music publications, part of Britain's so-called underground music press then running parallel with International Times and Oz. His work appeared in the Nick Ralph-edited Dark Star, Tony Russell's Old Time Music and Peter O'Brien's Omaha Rainbow.
Between 1979 and 1989 he edited the groundbreaking magazine Swing 51. It was predicated on enthusiasm, lashings of business naivety and in-depth interviews with the likes of John Barlow, Paul Brady, Anne Briggs, Martin Carthy, Shirley & Dolly Collins, Ray Fisher, Jerry Garcia, Alan Garner, the Home Service, Dagmar Krause, David Lindley, Christy Moore and Ralph Steadman.
Once his published writings began appearing in History of Rock, Q, Mojo and Donald Clark's Penguin Encyclopedia of Popular Music (all UK) he had no time to stop. Hence recent clients such as the All-Music Guides (USA), fRoots (UK), Folker! (Germany), The Guardian (UK), The Independent (UK), Jazzwise (UK), the Oxford University Press's Oxford Dictionary of National Biography (UK), Penguin Eggs (Canada), Rock'n'Reel (UK), the Rough Guides to Rock, India, South India and World Music, Sing Out! (USA), The Strad (UK) and the Glastonbury (UK) and Tanz&FolkFest Rudolstadt (Germany) festivals.
He had contributed, as editor or translator but predominantly as writer, to scores of audio and visual releases, including ones by B.E.V., Vishwa Mohan Bhatt, Asha Bhosle, Iva Bittová, Anne Briggs, Martin Carthy, Martin Carthy with Dave Swarbrick, Purbayan Chatterjee, Hariprasad Chaurasia, Commander Cody, Čechomor, Dissidenten, Davey Graham, the Home Service, Robb Johnson, Ali Akbar Khan & Asha Bhosle, Sultan Khan, Alan Lomax, Lata Mangeshkar, Yehudi Menuhin, Ronu Majumdar, Ougenweide, Shahid Parvez, Mohd. Rafi, Kala Ramnath, Ravi Shankar, Shivkumar Sharma, June Tabor, the Watersons and Manickam Yogeswaran. His arranged marriage project of Asha Bhosle, the Kronos Quartet and the compositions of R.D. Burman – You've Stolen My Heart (2006) – was nominated for a Grammy.
His 'occasional lyrics' include I Butchered My Husband – an English-language adaptation of the Püschel/Morgenstern marital slaughter song, Ich hab meinen Mann geschlachtet – for Scarlett O' (Seeboldt) & Jürgen Ehle's From The Spree To The Roe (2002) and the Different-Side-of-Christmas song Cancel Christmas, co-written with Pankow's guitarist, the same Jürgen Ehle, for his and O"s Gans ohne Tannenbaum (2005). For more information about Hunt's other, rather intriguing partners-in-song, watch this space. The possibilities of a living wage in freelance music journalism still lead him on like a will-o'-the-wisp, but the impossibility of not writing even more.